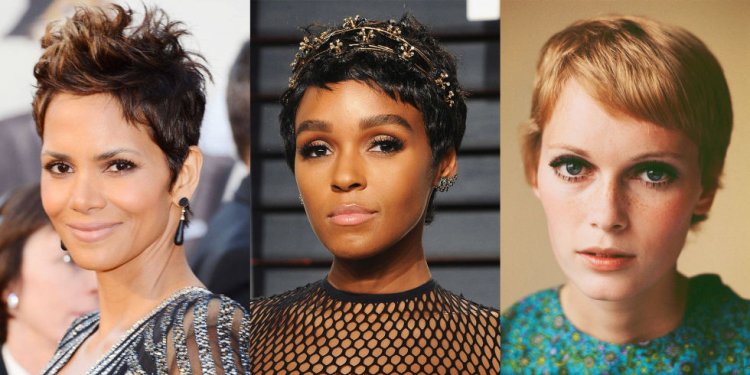 famous short haircuts
Charlize Theron in a pixie, Kate Mara in a shag & Scarlett Johannson in an edgy pompadour. Photos by Getty Images
This year's hottest short hairstyles are edgier and more modern than in years past. Stylish looks include long bangs with shorter sides, mussy shags and long bobs and even the pompadour, which some of the hottest celebrities of today are pulling off.
If you're thinking about making the short hair plunge or just changing up your hairstyle, you may consider one of the 6 hottest short hair trends of the moment. They are (drumroll please):
The pixie (but a modern version)
The mussy shag
The Pompadour
The unstructured bob (still going strong!)
Super-short, edgy cuts
The demi-bob (also known as "the long bob" or the "lob")
In this photo gallery, I give you the full scoop on each trend, what face shapes and hair textures work best with them and I provide links to photo galleries showing each trend in much more depth. Plus, you'll find out the best hair products for each look.
Would Short Hair Suit You?
Short hair is so popular this year that several short haircuts also appear in my list of the 20 Hottest Hairstyle Trends of the Year. But which of these popular cuts best suit your face shape and hair texture?
The great news is almost everyone can get away with a short hairstyle. Some styles work better with certain face shapes and hair textures. For example, your haircut should give you the illusion of having an oval face shape. So if you have a round face you'll want to elongate it, and if you have a square face, you want to soften your jawline.
In my article, How to Tell if You'd Look Good With Short Hair, I share 9 tips to find your best short hairstyles. Don't miss my "Sharpie tip."
Coco Chanel said it best in her famous quote, "A woman who cuts her hair is about to change her life." Here's to life changes.
Michelle Williams pixie haircut. Chelsea Lauren (l) and Frazer Harrison (r) for Getty Images
See a photo gallery of pixie hairstyles.
Audrey Hepburn was the original celebrity with pixie hair and Mia Farrow popularized the look in the 60s. In the past years, pixie hair has "cropped up" on a host of stylish singers and actresses including Michelle Williams, Ginnifer Goodwin, Emma Watson, Carey Mulligan, Halle Berry and Anne Hathaway.
While many pixies are traditionally short all over, the modern pixie tends to be choppy and texturized with longer bangs that give you a ton of styling options.
The Best Hair Texture for a Pixie
The pixie works best on women with thick, naturally wavy hair. I find the pixie doesn't work as well on fine, straight hair because the hair falls too close to the scalp, looking a bit like a helmet. If you have fine hair, you may need lots of product to add body.
What Face Shapes Work With a Pixie?
The pixie works best on women with heart-shaped, square and oval faces. It's a good cut for women with round faces, too, just make sure to keep the bangs long and style them forward or up to create the illusion of length.
More on the pixie:
My photo gallery featuring the hottest pixie hairstyles today.
Photos of the best pixie styles for older women.
Best Hair Products for Pixies
Get my full list of products for pixies in The Best Hair Products for Pixie Hairstyles.
Getty Images
If you search for "shag hairstyles" on the Internet, what comes up is a lot of dated, rocker girl hairstyles with lots of layers. They remind me of 80s hair bands - a sort of mullet hairstyle gone bad.
But the modern shag hairstyle doesn't resemble a mullet and shouldn't remind one of the 80s. What they have in common with those hairstyles of the past are mussiness, choppy ends and layering. The modern shag, however, isn't quite as layered.
cheap vegas flights
virginia flights
flights to raleigh
flights charlotte to miami
flights to dominican republic
atlanta to las vegas flights
book flights
flights from san antonio
flights of passage
nashville flights
flights to jamaica
flights to denver
flights to colorado springs
lax to orlando flights
flights lax to london
flights to sacramento
boston to seattle flights
ryanair flights
googl flights
flights to miami from philadelphia
dallas to seattle flights
ny flights
flights from cleveland to tampa
flights to puerto rico
flights cancelled
flights to vegas cheap
cheapest flights to key west
cheap flights to new orleans
southwest book flights
flights to colombia
flights to japan
chicago flights
denver to orlando flights
cheap flights to anywhere
flights from seattle
branson mo flights
google flights to las vegas
aeromexico flights
flights to indianapolis
maui flights
flights to alabama
jetblue flights
flights to jacksonville fl
new york flights
flights to brazil
flights and hotel packages
cheap flights to charlotte nc
flights to phoenix from san diego
flights to disney world
flights to lake tahoe
southwest cancelling flights
allegiant flights
cheap flights to mexico
flights to dublin
flights to playa del carmen
cabo flights
flights to denver colorado
flights to charleston
cheap round trip flights
flights?trackid=sp-006
chicago to dallas flights
flights atlanta to orlando
kayak.com flights
virgin islands flights
flights from chicago to los angeles
search flights
austin flights
flights from indianapolis
flights to maine
flights destin florida
cheap flights to atlanta
dallas to lax flights
branson mo flights
cheap flights from phoenix
flights from lax to seattle
flights to slc
flights to st maarten
www.cheapoair.com flights
bike flights
boston flights
cheap flights to vegas
Share this article
Related Posts