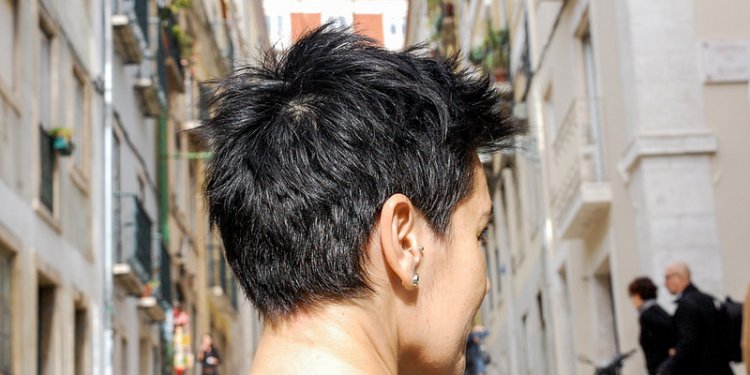 haircuts for short to medium length
If your haircut is that 'not-quite-long-but-not-quite-short' length, it can be tricky to find a hairstyle that really suits you. Well, we've hit up some of our favourite celebrities for all the best medium-length hair inspiration. Yup, there's 23 different styles to try, it doesn't matter if you hair is thick, thin, fine, curly or straight, there's guaranteed to be a look that'll flatter your mid-length locks.
1 of 23
Medium hairstyles: Emily Blunt's hairline braid
This ultra-fine hairline braid is perfect for taming any baby hairs or disguising a growing-out fringe. Keep the rest of your locks loose and try adding a subtle wave through the lengths à la Emily.
Advertisement - Continue Reading Below
2 of 23
Medium hairstyles: Ciara's chic undone topknot
Ciara proved you can look sexy AF with a 2 second hairstyle. Yup, by whipping her hair up into a topknot and pulling out some loose strands to frame her face, the singer's style scores a 10/10 from us.
3 of 23
Medium hairstyles: Emma Stone's classic twisted updo
Some days your hair just gets in the way (aka, every day of summer), so roll your locks up into a twisted updo and pin it in place.
4 of 23
Medium hairstyles: Jourdan Dunn's lilac mane
Who says candy-floss hair colours are just for festivals? Nuh-uh. Jourdan's lilac-tinted locks are cool enough to wear all year round.
Getty
5 of 23
Medium hairstyles: Hailey Baldwin's curly high pony
Hailey knows how to do cool-girl hair better than anyone, and this cute high pony is no exception. To recreate her look scoop your mid-length locks up to your crown and secure with an elastic. Next, use a curling tong to add some texture and waves through the ends.
6 of 23
Medium hairstyles: Janelle Monáe's double buns
We're obsessed with Janelle Monáe's locks, seriously, the woman has never had a bad hair day.
These cute-as-can-be buns teamed with a wavy side fringe are giving us major hair goals.
7 of 23
Medium hairstyles: Kerry Washington's polished curls
Pretty, polished waves are always going to score style points. Keep your hair as smooth as possible with a styling pomade, then use a large barrel wand to swirl the mid-lengths to ends.
8 of 23
Medium hairstyles: Margot Robbie's half-up bun
If you want to disguise greasy locks but can't bear wearing your hair up, the 'hun' (half-up bun) is for you. Section off the top half off your locks and twist the lengths into a knot before pinning in place, give the rest of your hair a spritz with dry shampoo and you're good to go.
9 of 23
Medium hairstyles: Lily Collins' mermaid waves
Switch the ringlets for mermaid-esque waves like Lily Collins. Use you straighteners to bend the hair back and forth and create an 'S' shape, then run your fingers through the lengths to separate the strands and create a loose, dishevelled finish.
10 of 23
Medium hairstyles: Rosie Huntington-Whitely's plaited bun
The best way to upgrade an understated bun is by plaiting the hair before you twist it round into a knot. The finish? A sleek, pretty updo.
11 of 23
Medium hairstyles: Jourdan Dunn's ribbon curls
Jourdan's tumbling ribbon curls are structured and glossy, whilst her blunt cut gives the appearance of volume and thickness. It's a win, win.
12 of 23
Medium hairstyles: Ashley Benson's cute quiff
Pin the front section of your hair back and secure it in place, then add a little loop or knot to the remaining strands. Pretty, huh?
13 of 23
Medium hairstyles: Rihanna's corkscrew curls
Pile those tight ringlets up onto your head in an oh-so cool pineapple ponytail, just like RiRi.
P.S. Be sure to pair this hairstyle with a killer necklace or choker.
14 of 23
Medium hairstyles: Scarlett Johansson's halo braid
A halo plait like Scarlett Johansson's is a great style if you fancy showing off your shoulders. Cute, no?
15 of 23
Medium hairstyles: Leigh-Anne Pinnock's threaded braids
Leigh-Anne took her cornrows up a gear by zig-zagging a dreamy gold thread through the lengths. L.O.V.E.
16 of 23
Medium hairstyles: Bella Hadid's slicked down centre parting
17 of 23
Medium hairstyles: Suki Waterhouse's Tinkerbell topknot
Suki Waterhouse just proved that a messy topknot and a sweeping side fringe are the cutest combo.
18 of 23
Medium hairstyles: Solange's beautiful textured 'fro
Solange's stunning candyfloss curls are all the natural hair inspo you need this month - pay attention, peeps.
19 of 23
Medium hairstyles: Christina Hendrick's half-up 'do
A half-up 'do is a classic style for a reason. Popular with the likes of Christina Hendricks and Kate Middleton (two women with impeccable taste), it's clearly a winner.
Share this article
Related Posts