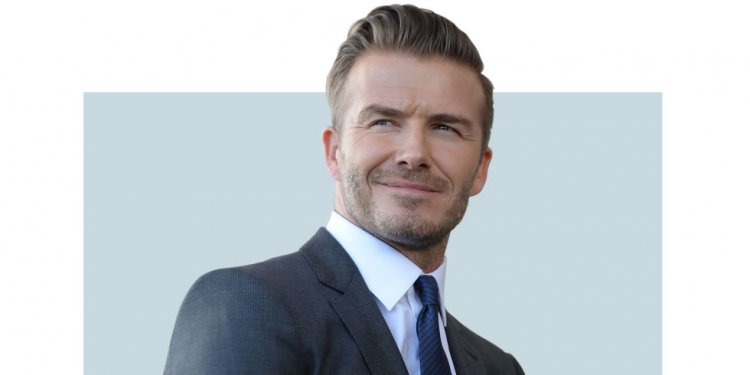 Hot short haircuts for guys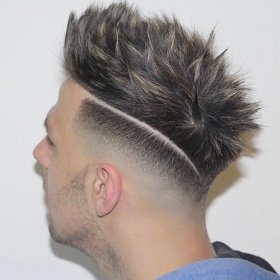 As with any haircut, the way the hair is cut makes all the difference in the finished product. This haircut is heavily feathered, which gives it depth and thickness throughout the top and middle of the hair.
#2: Shaggy Faux Hawk
A shaggy haircut is best for those who love a messy touch to their hair, and, luckily, you can have the look while also embracing a popular faux hawk haircut, just like this photo.
#3: Deep Part Faux Hawk
The way your faux hawk haircut is parted makes all the difference in how it looks. This style is parted deeply on each side and then faded, while the top is more understated and simply spiked up.
#4: Curly Faux Hawk
One of the best things about a faux hawk haircut is that it works well with a variety of hair textures. This one is done on naturally curly hair, the sides are low and faded.
#5: Spiked Faux Hawk
If it's edge and drama you're looking for in your hawk cut, then this one is definitely the style for you. While the sides are clipped short, the top and nape are left longer and then shaped and spiked into an amazing Mohawk.
#6: Buzz Cut Faux Hawk
Initially you may think that a buzz cut and a faux hawk have little in common, but you'd be surprised at how great they look when combined. The visual effect of Mohawk is created here thanks to the combination of shorter sides and longer buzz cut.
#7: Front-Combed Faux Hawk
Enhanced by a messy touch, this faux hawk style is all about the way it is combed. By combing it up, you accentuate the point-cut ends and the front-tilted quiff that shapes a cool silhouette of your style.
#8: Extreme Faux Hawk
Sometimes going to the extreme with your haircut is just what you need to spice things up. This cut features neatly tapered short sides, but the long, sharp and extremely spiked top section is what sends heads turning.
#9: Finger-Combed Faux Hawk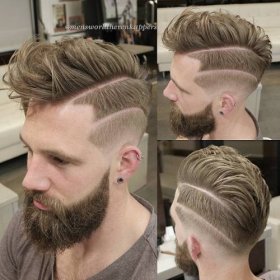 There is a myriad of faux hawk styles, but this one is all about using your fingers. Besides the edgy spiked top and tapered sides, this cut is given personality thanks to the cool finger-combing styling technique used throughout.
#10: Long Faux Hawk
The length of your faux hawk can be any length you like, even if it causes the shape to look a little different. This cut features skinned sides, while the nape is tapered. The middle and top are left considerably longer for a Mohawk shape to be created.
#11: Curled Faux Hawk
Proving that you don't necessarily have to have naturally curly hair to achieve the curled look, this style plays with texture by adding flicks throughout the top.
#12: Smooth Faux Hawk
The majority of faux hawk styles are punctuated by their spiky top that channels rockstar chic. However, it's also possible to keep your hair relatively smooth with a fauxhawk, as shown here. The hair in the top, back and sides is neatly brushed and smoothed with a slight spike. We love the taper fade harmoniously blended into the style.
#13: Short Low Fade Faux Hawk
Loving the look of a fade but still want to play around with a Mohawk? Well the faux hawk fade is the best of both worlds. Merging a low fade with a faux hawk is a great way to embrace different hair lengths and textures.
#14: Skin Fade Faux Hawk
In terms of the men's faux hawk versions, there are so many style options available that suit a variety of tastes. In this picture, there is a bolder skin fade haircut on display, as the shaved sides and spiky top are pretty expressive but not too over the top.
#15: Classic Faux Hawk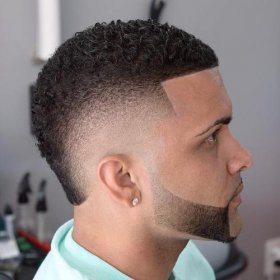 This is the classic look and shape of a men's faux hawk haircut. The sides are just low enough to look neat and appropriate, while the top is left significantly longer so that it can be spiked to give the style the Mohawk look.
#16: Pointy Faux Hawk
One of the essential features of a Mohawk (or a faux mohawk) is its pointy top that's usually achieved by spiking with a product. In this picture, you see a crisp pointy top and the sides which are left pretty full.
#17: High Top Fade Faux Hawk
Black men probably pull off Mohawk better than other races, that's why this style is closest to the original Mohawk. The back is still faded, so we take this look rather for a cool fauxhawk interpretation. Anyway, if you like it, go for it, no matter how it's referred to.
#18: Professional Faux Hawk
Perfect for the office or any other professional setting, this men's faux hawk is just the right amount of edgy and cool, while still looking appropriate.
#19: Tiny Faux Hawk
When you want to embrace a Mohawk, but would rather ease into it slowly, this is the ideal haircut. This short faux hawk features completely shaved sides and a small amount of hair on top to create a tiny Mohawk.
#20: Edgy Spiked Faux Hawk
Here you see one more way to style your faux hawk and to make it more messy and edgier. With the help of extra-hold styling gel make small spikes out of your hair. Sides have to be neatly faded.
#21: African American Faux Hawk
Many African American men love the look of a high or low fade, however, this haircut was taken up a notch thanks to the addition of the shaved part on the side.
#22: Ombre'ed Faux Hawk with Hard Part
The main advantage of the cuts with longer top and short sides is that you may continuously experiment with styling. High pomps, curled waves, neat combover or sleek faux hawk – it is just the beginning of the list of must-try options for this season.
#23: Subtle Faux Hawk
A fauxhawk is often characterized by its closely clipped sides, so it maybe hard to think that this type of haircut can be referred to as a fauxhawk. However, if you want to keep "long" hair along the sides while embracing a Mohawk, this is the best cut.
#24: Tapered Faux Hawk
Highlighting a tapered look along the lower middle, sides and back, this faux haircut features a clean and neat style. This usually not the normal way that most Mohawks look, but it's a nice and stylish change if you want to embrace a funky yet neat style.
#25: Spiked Top with Faded Sides
Do you know the easiest way to look stylish every day? To have a right haircut! Neatly cut temples, perfectly styled long tresses, cool beard – these are your number one priority when you go to your barber.
#26: Long and Curly Faux Hawk
A little extra length on top and curl never hurt any hairstyle, right? As seen with this faux haircut, you have a long top and middle section that is curly yet gives off a messy look.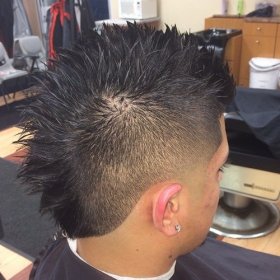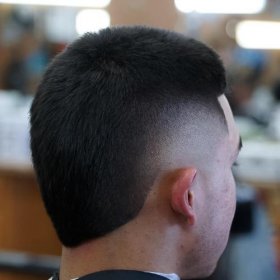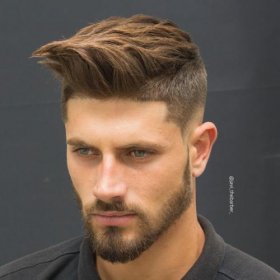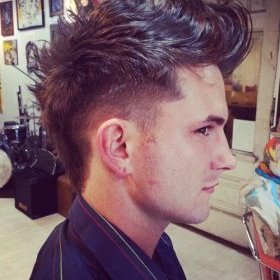 Share this article
Related Posts