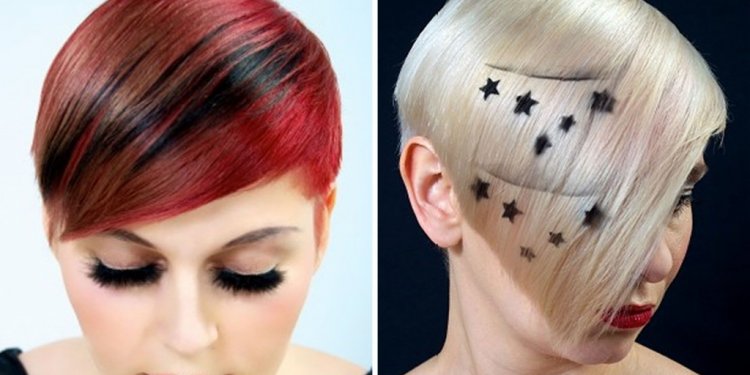 Color for short haircuts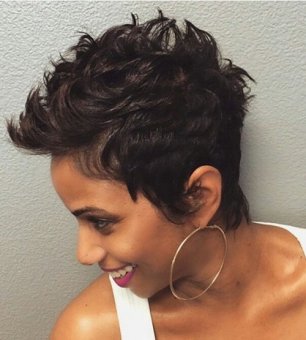 #3: Wavy Pixie for Thick Hair
A solid black color, thick, wavy texture and a short length make for a style that may seem discreet at first sight, but it is classy and doesn't distract from your beautiful face, especially if you have big eyes and such a brilliant smile.
#4: Short and Sassy Look
The short and sassy black hairstyle was branded a while back. Since then, it has been a favorite with women, and hair-stylists are confident it will continue to be a trend-setter for years to come. The African American beauty in the image is wearing this playful haircut styled into spikes in the centre and shorter sleek sides. Hair stylists also recommend applying texturing cream and finishing everything off with hairspray in order to achieve the perfect fauxhawk look.
#5: Undercut for Natural Hair
Undercut is a hot trend not only for men. African American ladies can successfully pull off these gorgeous extra short looks with no sacrifice to their femininity. Try a two-tone hair color and maybe some carved designs to make your style even sharper.
#6: Short Curly Vintage Fauxhawk
When vintage and modern blend in one hairstyle so harmoniously, you get a fashion statement 'do that turns around the perception of your whole look. This pastel pink/red fauxhawk is remarkable from every angle thanks to its stunning texture, flattering silhouette and unhackneyed, appealing color.
#7: Asymmetrical Pixie Haircut
Some simple African American short haircuts manage to make dapper styles. Color and styling can really do wonders. This medium brown hue matches the color of the girl's eyes and makes her complexion brighter. The effortless side- and front combed short locks draw attention to the beautiful facial features. The beauty of your hairstyle should never overpower your own beauty.
#8: African American Curly Purple Pixie
Dark purple hair color looks interesting on black women, especially if it's a short hairstyle. Purple in this case is not as expected as different shades of red, so you can count on a fresh look even if you go for your usual curly pixie cut.
#9: Short Bob with Bangs
More and more women are proving that short is the new sexy. The courage of embracing one's femininity through a masculine short haircut is an undeniable sign of self-confidence. The model in the photo is sporting quite a powerful look: a modern take on the basin-cut bob. The hair strands embrace and define her cheekbones, while the uneven fringe accentuates the eyes. To achieve this look you simply apply hair products on towel-dried hair and style it with a soft paddle brush while blow-drying.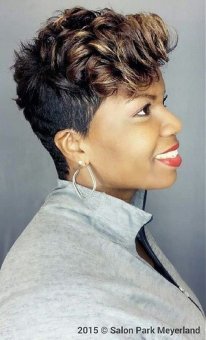 #10: Disconnected Side-Part Hairstyle
Short black hairstyles with accents and edgy twists are no less popular than simple classic styles. You can go for a long colored bang, a dramatic side sweep, undercut, carved designs or… all of them in one style!
#11: Textured Pixie for Natural Hair
The textured short haircut is a modern and fresh style that showcases one's playful and independent nature. The center-piece of the cut is the Mohawk-like fringe. The sides are tapered and they blend practically seamlessly with the top. If you want to make a stronger impression with this hair style, you may consider dying the fringe in an unusual color.
#12: Short Undercut with Highlights
The undercut has become a classic unisex look. Its beauty lies in the fact that it works with all types of hair, hair colors and hair lengths: long blonde locks, short black hair, you name it. This type of hairstyle is characterized by a longer portion of hair at the top of the head which is styled in a unique way, and closely clipped sides & back. This image is a great example of a curly undercut that has a layered appearance due to the carefully styled highlights.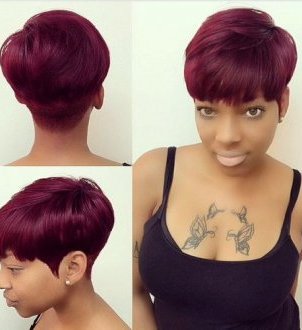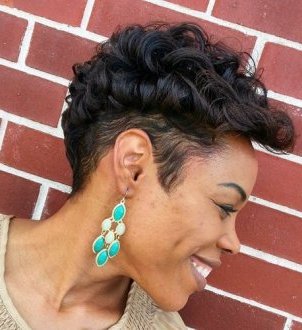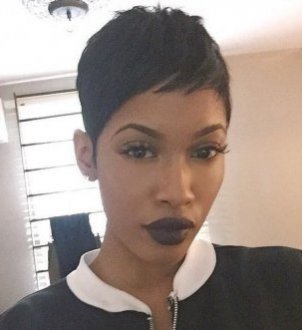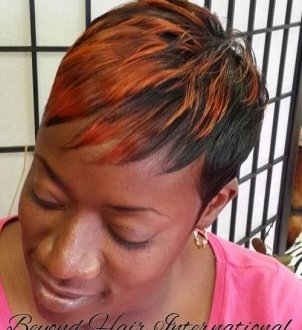 Share this article
Related Posts