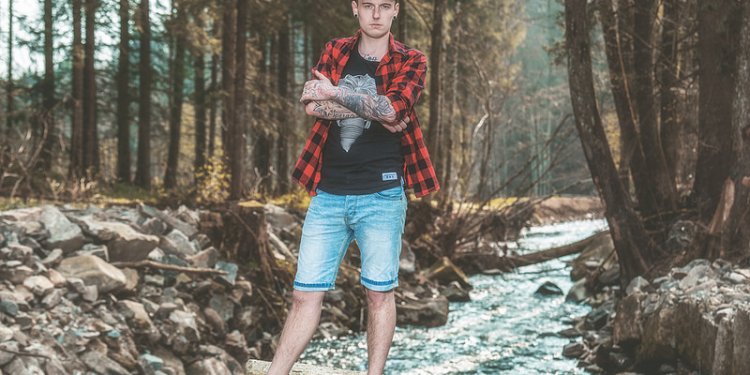 Latest short haircuts for ladies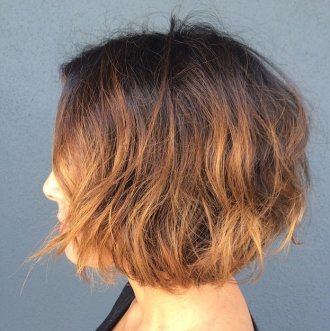 The Hottest Short Hairstyles & Haircuts for 2017
This is another graduated bob which has made the cut, and boy is it a good one! This luscious brown hair works from shorter at the back to longer at the front, and the tips of this hair are a gorgeous blonde, creating the most wonderful, sun-kissed effect. The hair is loosely waved from top to bottom creating this amazing relaxed style which we simply adore.
Light brown ombre choppy bob
Clearly her hair is wavy—almost curly even. We didn't use that in the title, though because what we wanted you to focus most on is the color and cut; not the hair texture. This is another way to make an ombre color treatment work for you: combine dark and light brown together. She has a few layers throughout (more in the back) and a middle part helps to keep her tresses out of her face.
Credit
Blonde boy-cut with cute quiff and soft silver balayage
Credit
Trendy short hairstyles for women: Here's an updated pixie-cut, cut very short and brushed forward to follow the trendy, smart look of male hairstyles. The front quiff adds height to flatter a round or wide face and there's attractive texture in the top. The final contemporary touch is a pinky-beige root color with cute silver blonde tips!
Graduated bob for thick hair with brown layers and blonde highlights
A part of the reason why this bob appears to be so full is because her hair is super thick. We're also willing to bet that some shorter layers were added towards the middle of the back of her head in order to give it that "bouffant" look. The look is then completed with some light brown layers and then blonde ones on top of that.
Loose waves bob with three-tone color
At first glance, you might think that her hair is naturally this color. That's the sign of someone who has a great stylist! Actually, this is color-treated with about three different shades. A good idea if you're someone who wants your thin hair to seem a bit thicker than it actually is.
Short A-line copper-colored choppy bob
Boy oh boy! If you've been looking for a a shorter style that isn't super short, what do you think about this? On a head that has plenty of thick and straight hair, we can't see why anyone would want to pass it up! The choppy layers are cut to perfection and the graduated back makes it the perfect kind of angled look! And the copper color? It's simply the icing on the cake! Do you love this ?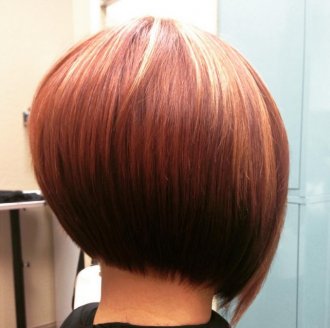 Credit
Jet black curly pixie with tapered sides
Something that's wonderful about having curly hair is you can taper the sides to give lots of volume up top. This is the case with this model's hair. And the jet black hair color? Yeah, that's super sexy! A perfect short hairstyle for black women.
Stacked bob with bold blonde highlights
What we like about hairstyles like this one is that the coloring is what helps to bring out the cut. That's why we highly-recommend that you get a top-rated stylist to pull off this look. From the tapering of the neckline to the bold chunks of blonde coloring on the first couple of layers, it's a professional look that needs a professional's touch.
Wavy A-line bob
Is your hair naturally wavy? How do you feel about this particular bob? WE LOVE IT!
Green and purple inverted bob for round faces
If your two favorite colors are green and purple and you want to wear them all of the time, there's a remedy for that: you can dye your hair those colors. In the form of a straight inverted bob (with bangs), it could be a lot cuter than ever imagined!
Asymmetrical pixie cut for short hair
Do you currently have a bob and you don't want to lose the length in the front? With an asymmetrical bob like this one, you won't have to. (What do you think about those lavender streaks?)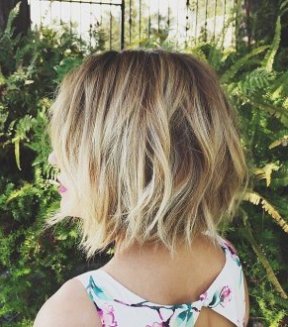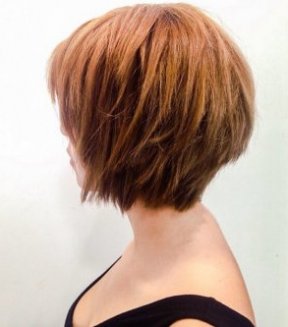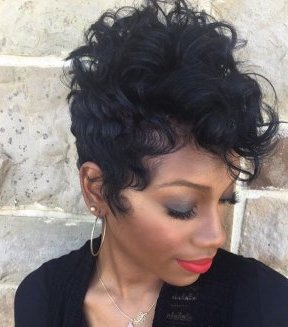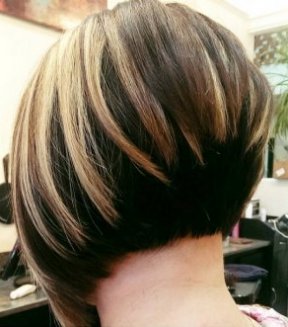 Share this article
Related Posts