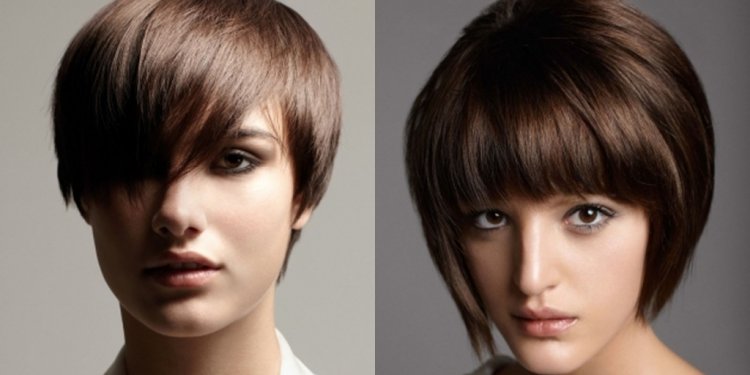 Hair color for short haircuts
Short hair is easy to maintain and very, very trendy. Celebrities show off their new short haircuts and many women join the trend right now. The new short hair style should appeal with casual charm. Check your styling supplies. Do you have all the help from today's sophisticated hair products? Read on, we let you know how to style your short hair to dazzling perfection

Forget round brush and rollers! Many short haircuts can be styled using nothing but the fingers. A flat paddle brush works well for sleek short hair styles with hair clinging to the scalp. Simply use the paddle brush while blow-drying your hair. This enhances your hair's luster but does not add unmanageable volume. Styling on the fly is best done using a skeleton brush with widely spaced plastic bristles. Use this brush to give your hair structure and bounce. Thanks to the wide bristle spacing blow-drying takes very few of the minutes you can spend to get ready for your day.
Styling Short Hair: Wax or Gel?
Wax, wet gel, styling lotion pomade and gel wax are the ideal sculpting tools for everyone with short hair. Choices, choices… Before selecting the right product you need to decide on the styling details. Would you like to create a soft dewy look? Try applying a little wax, pomade or gel wax. These products all contain conditioning oils and therefore give your short hair alluring luster without rigidity. Distribute a small amount of one of these styling aids between your hands and work it through your hair from the base. There is good reason not to use too much styling aid. Starting with just a small about pea-sized amount gives you the option to add just a little more later on. However, only shampooing helps after applying an excess.
Wet gels and styling gels work very well if you like your hair to stand up from your head a little more or prefer the drenched beach look. Both gels are available in different versions for soft to ultra-rigid hold. You find these details on the package. Very fine or very thick hair requires some extra consideration. After all, there are few places where the porcupine look finds many admirers.
Styling Short Hair: Volume is Key
Short bobs or short haircuts with longer covering hair need some volume to look good. Styling mousse, spray or powder helps to create volume and bounce without weighing the hair down. Make sure you apply the volumizing styling product near the roots where it is needed to create bounce. Styling mousse, sprays or powders come in many varieties for over-processed, color-treated, normal or oily hair. Choose the right product according to your hair's structure and conditioning needs. Usually, no more than a dollop half the size of a tennis ball is needed for short hair. As you may have discovered already, styling mousse also helps refresh your hair style between shampoos.
Styling Short Hair: Hold and More Hold
Hair spray gives a sophisticated short hair style the perfect finish. It keeps your hair looking well-tended for a long time and also protects from damaging UV rays. Be sure to spray from a distance of 20 cm (8 inches) so that the spray settles on your hair in a very fine mist. Use the following simple trick to dazzle with bouncy yet very shiny hair: Apply hair spray before working a little wax through your hair.
See also:
Granite countertops fabricators custom kitchen countertops granite granitebv.com.
Share this article
Related Posts