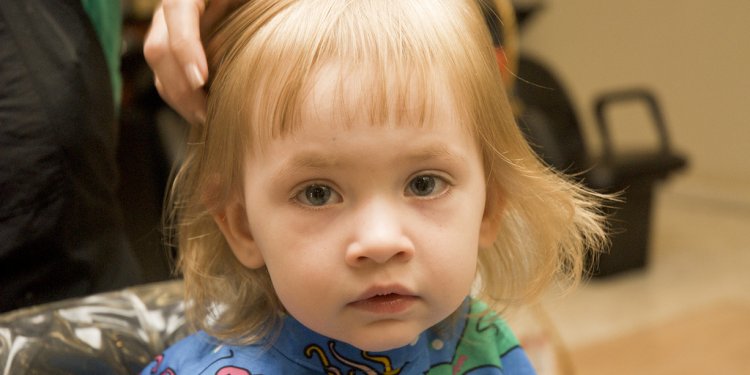 Cute haircuts bangs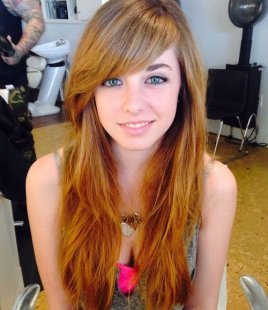 #3: Two-Tiered Fringe and Tousled Layers
Though these layered bangs are long, they look weightless thanks to the texturizing cut and balayage color. The coloring creates the appearance of a two-tiered fringe that can be your special personal detail.
#4: Layered Hairstyle with Thick Fringe
With long layers enhanced by a multi-tonal blonde hair color, this haircut for long hair turns into a gorgeous dimensional style. The fringe is full, straight and traditionally long.
#5: Ginger Brown Shaggy Layers
Long, shaggy layers and heavy side bangs are the key components to this adorably cute hairstyle. The layers here begin at the cheekbones and go all the way through to the ends. The expertly smoothed bangs have been whisked to the side for a decidedly flirty appearance. The light brown hair color is quite flattering to blue eyes and fair complexions.
#6: Wispy Haircut with High Crown
One of the main goals of long, layered haircuts is to have as much movement as possible, and this cut definitely fits the bill. The focal point of the hairstyle is actually the crown section, enhanced with long bangs. The top of the hair is lightly teased to give the hair some welcomed height that looks heavenly in this pearly shade of blonde.
#7: Long Subtle Layers and Highlights
Long layers are gorgeous and easy to get, but when you add a multi-tonal hair color, you will adore the dimension that instantly breathes in a new life into your long tresses. Don't forget to add side bangs to the layers for the face framing beauty that leaves us and everyone around speechless!
#8: Layered Blonde Balayage Hair
Long finer-textured hair also benefits from layers. In this case a hairstyle with a very soft and feminine feel is created, and the idea of softness is enhanced by the pearly blonde balayage coloring.
#9: Free-Flowing Brunette Hairstyle
If you prefer to wear your bangs straight across your forehead, the most popular shape for them would be arched. To look modern, they also should be quite long. This kind of bangs is good for faces with big foreheads.
#10: Brown Ombre for Straight Hair
The key to long, layered haircuts is to keep the length, but add just the right amount of layers to create depth, definition and dimension. This cute style features long bangs and careless layers that gradually turn to light brown courtesy of the flattering ombre effect.
#11: Mermaid Ombre'ed Hair
For women who don't like to spend a lot of time or money on their locks, one of the best cut and color combos is long ombre layers. While you may need to trim your bangs monthly, you'll be able to let the rest of your hair grow out for as long as you please while still looking trendy.
#12: Blonde Modern Shag
The shag is back…with modifications, of course. This twist on long hair with bangs incorporates top-heavy layers that offer a perfectly-imperfect messy vibe all edgy girls just love. Pair it with an ashy-icy shade of blonde for an even cooler look (pun intended).
#13: Long Layers for Fine Hair
Fine hair tends to get a bad rep, but if you incorporate the right amount of layers, you can achieve gorgeous soft texture and volume. Long side bangs are the best choice for this hair type.
#14: Eye-Grazing Bangs
For a flirty look, consider long cute bangs that graze just past your brows. While this type of bangs hairstyles requires more upkeep as you have to trim them before they poke your eyes and become annoying, they playfully frame your peepers and you'll look quite adorable when sweeping them out of your eyes.
#15: Long Swooping Bangs
Looking for long hairstyles with bangs that are both bombshell-worthy and quick to style? Consider this stunning blonde coif. Long layers and gorgeous swooping side bangs go from shower to blow-dry to ready. The only tool you'll need is a large round brush to shape your ends, and blow your bangs away from your face.
#16: Modern Brigitte Bardot
Channel style icon Brigitte Bardot with this updated version of her look. Thick bangs with voluminous layers round-brushed or curled into a big, bouncy coif are the ultimate in sexy bang hairstyles. Pair with a solid black color for a rocker-chic vibe.
#17: Long Ombre Hairstyle with Bangs
Layered bangs are a great option for women with thick hair. Instead of a traditional fringe that risks falling too heavy and uneven, a layered technique will lighten the load, allowing the bangs to lie softly in place.
#18: Blunt Bangs with Long Waves
A great way to refine a free-flowing coif like this one is to add structured bangs with long hair. A blunt fringe creates a clean, straight line that contrasts beautifully against the wavy blonde locks.
#19: Rose Gold Curls
In this meticulously crafted and voluminous coif, the curls were left lively and flowing, and the side swept bangs were carefully sprayed in place to maintain those flattering swoopy lines. This results in a polished, refined look that's fit for a beauty pageant contestant.
#20: Modern Farrah Fawcett
In the 1970's, everyone went crazy for Farrah Fawcett's feathered, flippy 'do, and with a few small tweaks you can also achieve the Charlie's Angel's sexiness! Less but long balayage layers is all it takes to modernize the iconic style.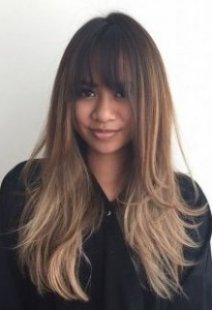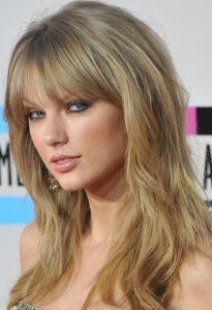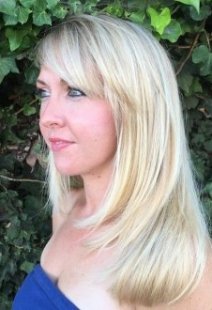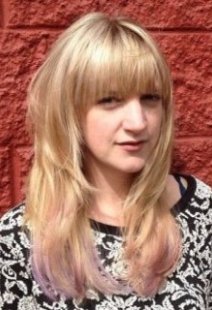 See also:
Share this article
Related Posts