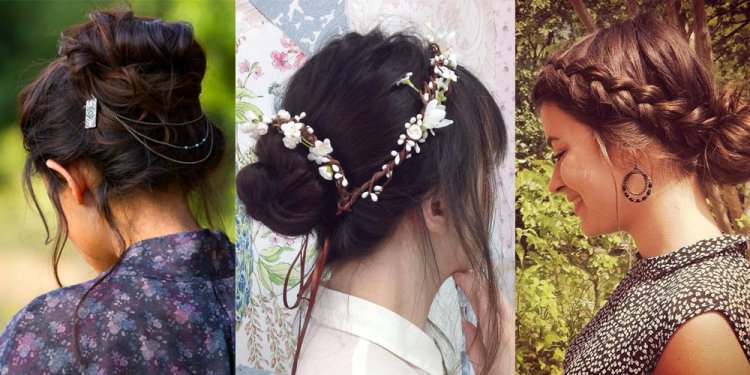 Different haircuts for girl with name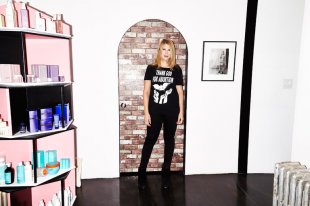 Photo
Johanna Fateman, the co-founder of the band Le Tigre, now runs an inclusive, feminist-inclined salon, Seagull, in the West Village. She wears a T-shirt by Chocolatina Actions.
Credit
Amy Lombard
Johanna Fateman is most famous as a musician — she was the founder, with Kathleen Hanna, of the germinal feminist dance-punk band Le Tigre — but she has always worn multiple hats. A mother, business owner and art critic, Fateman recently picked up the title of New Yorker columnist when the magazine invited her to write regularly for its "Goings On About Town" section. "The majority of my time and mental energy is definitely spent in writing, " Fateman says. "Of course, Le Tigre will always be something people want to talk about."
Her regular byline is not the only job that demands her sustained attention. Fateman also runs the business end of Seagull, a unisex salon in the West Village, while her partner Shaun Surething manages the styling. The salon is a neighborhood landmark from the 1970s that predates them both; it was New York's first unisex barber shop. They took it over in 2006, which gave Fateman the freedom to pursue music and writing. "It's a tough reality. Obviously, devoting yourself to something as demanding as a true art or writing practice is more than a full-time job, " Fateman says. "But I am kind of a romantic. I think that if you are an artist or a writer and you need your voice to be heard, it's not really a choice, so you have to figure out how to survive around that. There is such a destructive opposition in our culture that you are either creative or good at business. Who is that really serving? It's serving trust-fund art."
Photo
Clockwise from left: the stylist Mel Hirschfeld works with a client (Seagull offers cuts, coloring, straightening and on-site wedding packages); tchotchkes from the former West 10th Street location, which followed Fateman and Shaun Surething to the new salon to live in a cabinet of precious curiosities; Fateman carries a tote emblazoned with one of the artist Judith Bernstein's "Phallic Screws."
Credit
Amy Lombard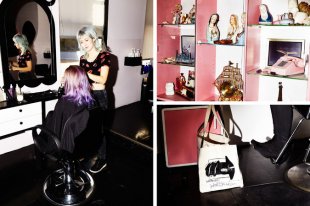 The salon takes its name from Richard Bach's "Jonathan Livingston Seagull, " a novella detailing a bird's journey toward self-fulfillment. In his moment of enlightenment, the sea gull realizes: "You have the freedom to be yourself, your true self, here and now, and nothing can stand in your way."
It's a fitting mantra for the salon. The good vibes radiate from the staff, who are friendly and attentive with customers — and tend to make each other laugh, too. The atmosphere keeps regulars, including Brooke Shields and Tavi Gevinson, coming back. "I always see Shaun, and he is a consummate artist. I can always count on him for a very stimulating 45-minute conversation from a queer/feminist/magical perspective; and I so appreciate having his council as I confront the problems of self-presentation and aging, " says the artist Carol Bove, who just opened her first solo show with David Zwirner. She's been going to Seagull for several years and has seen multiple stylists there. "They have all satisfied my chief requirements with my short haircut, which are that the transitions look considered and that my cowlicks are subdued."'
Bove is not the only one in it for the banter. "It's like I'm hanging out with my best girlfriends, who happen to do really great hair, " says the comedian Bridget Everett. "I think what Johanna and Shaun have created is really special. It feels like family. The family you create — not the one you were born into."
Seagull feels decidedly cozy. Elephant Pink, the Benjamin Moore color that coats the walls, helped create a sense of consistency when the salon moved from its storefront spot on West 10th to its current second-story location on West 4th. Funky, sharp black built-ins designed by the architect Ben Warwas, Fateman's childhood friend, break up the blush, along with paintings by artists like Sam McKinniss and Kathe Burkhardt. ("I've been noticing that the feminist-art-to-kitsch-ceramic ratio is shifting toward the feminist art as the years go by, " Bove notes.)
Photo
Clockwise from left: Seagull's photographic hall of fame, including idols (like Gloria Steinem) and regulars (like JD Samson); a painting by Nolan Hendrickson hangs next to the staff table; the requisite copy of "Jonathan Livingston Seagull, " the novella that gives the salon its name.
Credit
Amy Lombard
In her art, music and writing, Fateman has let her postpunk feminism lead. In publications like Artforum, she champions pioneers including Judith Bernstein and Marilyn Minter, while also supporting new talent like Bunny Rogers and Diamond Stingily. Before the election, Fateman and her Le Tigre bandmates drew the ire of pro-Trump and third-party internet trolls by reuniting and releasing a single titled "I'm With Her."
See also:
Share this article
Related Posts