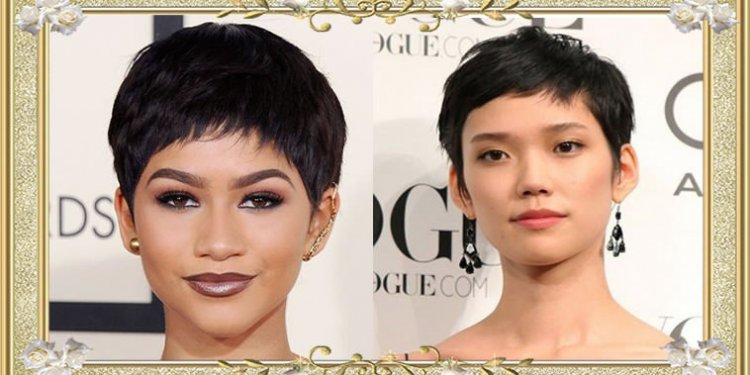 Haircuts for short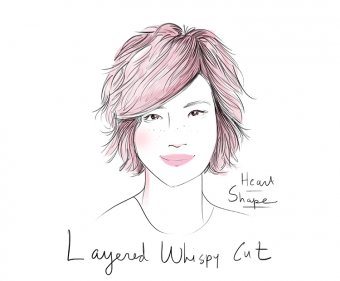 Fun fact: you don't need to go through a traumatic breakup to chop off your hair. Another important fact: you do, however, need to make sure that if you make a dramatic update to your look, you pick the best cut for your face shape. As hair stylist Antoinette Hill explains, "you want to find a haircut that compliments your face shape. Although personality and style can really pull a look together, not all cuts are created equal. Certain haircuts aren't flattering for all."
Hill says that while short hairstyles have always been timeless and chic, they are trending in salons this season because of their fashion-forward and edgy appeal. Here's what to relay to your stylist if you're looking to switch-up your look.
1. If Your Face is Heart-Shaped: Wispy, Layered Cut
Does your face have curves? Heart-shaped faces are lucky to have cheekbones that stand out and a chin that leans to the slender side. However, Hill notes that in order to harmonize your prominent features, it's essential to use your hair to minimize the width of your pronounced forehead. "The side-sweep is the perfect haircut for women with a heart-shaped face since heavy bangs create balance to the face, " she explains.
Pro Styling Tip: You now have fringe, or ahem, bangs! If you let them air-dry, you might end up with small strands heading in each-and-every direction, so Hill says to pull out your hair dryer instead. On a low-heat setting, dry your bangs in the direction you want them to go, while slightly running your fingers through the ends, so they don't hang in your face.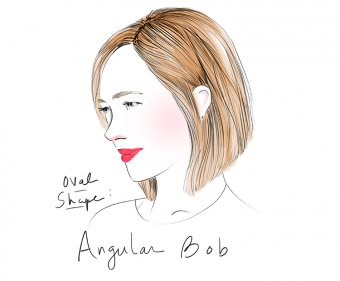 She also adds that a flat iron is a better pick than a curling iron for this look, since you don't want tight curls, but instead, whimsical, soft waves.
2. If Your Face is Oval-Shaped: Angular Bob
Many celebrities like Jessica Biel, Jessica Alba and Jennifer Aniston have an oval-shaped face, giving them a plethora of hairstyle choices to pick from. Because an oval-shaped face is softer, cuts can be more dramatic, according to Hill. The only key factor to remember is the size of your chin: since it's on the smaller side, your hair style should be angled and layered, to balance your look out. An angular bob is your best bet, Hill says, since subtle layers around your face maintain the softness of your face, while the cut itself will add dimension.
Pro Styling Tip: Throw out your rectangular brush if you're going for a bob look. Hill says it's better to use a rounder brush to create shine and body for your new cut. To tame any rebellious strands of hair, she suggests using a drop of your favorite hair oil.
3. If Your Face is Square-Shaped: Shoulder-Length cut
With a square-shaped face, you're probably acutely aware of your side profile. Because both your forehead and your jaw are prominent, you might hear others comment on your striking appearance that's often considered bold and beautiful. Hill explains that a cut with more length on the side works best for your specific reflection, because hair that falls past the jawline camouflages your square-structure. This might make your look softer and even more romantic.
Pro Styling Tip: This is the kind of look that allows you to playful—from warm beach waves on Monday to a pencil-straight look on Tuesday. Hill suggests trying a variety of styles to see which one looks best on selfies.
4. If Your Face is Round-Shaped: Pixie Cut
Congrats! Your face is the ideal geometric style for the infamous pixie cut. "Because the pixie is all about short sides and a voluminous top, this look helps to visually elongate the face, " Hill explains. If the thought of going super-short is scary, remember that a shorter style is actually more flattering. As Hill says, "Chin-length bobs are a no-no for this face shape as they further highlight the round shape."
Pro Styling Tip: Want to add some edge to your look? Hill says to use a dab of wax and toss your hair, making your individual strands more prominent and chic.
5. If Your Face is Long-Shaped: Side-Parted Curly Lob
Not sure what a 'lob' is? It's pretty simple, according to Hill: it's just a longer bob. (Get it?) This appropriately-named hairstyle is best for a longer face. If the wordsmithing isn't enough to encourage you try this look out, consider the way a 'lob' will shorten the appearance of your forehead. By curling the layers of your lob, you also add volume to the sides of your face, making your overall look more balanced.
Pro Styling Tip: When styling your lob, Hill says curls are a must, because sleek, straight lines will only make your face look even longer. And a center-part will do the same thing, so keeping it side-swept is your best bet.
Share this article
Related Posts