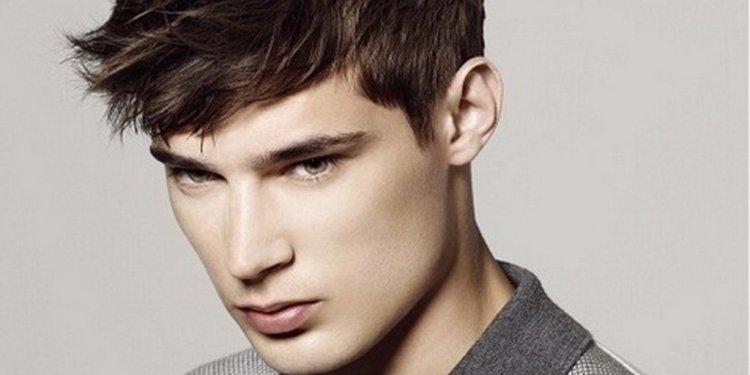 Haircuts for short hair guys
Nick is Associate Style Editor of British GQ
While a bad haircut isn't exactly the end of the world, we're yet to find a man who actually enjoys that awkward period it'll take to grow it out and start again - no matter how many extra cover-up hats you get carte blanche to buy for those few months. The solution? Get it right first time by figuring out the correct hairstyle for your face shape.
Picking a cut that doesn't suit your skull is a critical and, crucially, easily avoidable mistake many men make when sitting in the barber's chair. Sure, David Beckham's new chop might look great on him (let's face it, what doesn't?), but if you don't have the same square face with a strong jaw and prominent forehead, then it's going to sit all wrong.
So how can you tell what face shape you have? It's all in the proportions...
The key characteristics for each face shape:
Square: You have a defined, angular jaw, the sides of your face are straight, and the width of your face is almost the same as its length.
Round: The same as a square face shape, just with less angular features - the sides of your face are rounded and your cheekbones are the widest point of your face.
Oval: Your jawline is soft, curves and smaller than your forehead (picture an egg upside down).
Oblong: Also sometime called "rectangular", your forehead, cheekbones, and jaw are all of a relatively similar size, however your face is longer than it is wide.
Diamond: You have a long face shape and angular features (and a defined chin), but your cheekbones are the widest part of your face, followed by your forehead then your jawline.
Triangular:You have angular features with a jaw line wider than your cheekbones, which in turn is wider than your forehead (in short, an upside-down triangle).
Now you've got that figured out, the next step is to work out the correct crop that's going to suit you. With that in mind, we talked to men's hair expert and A-list groomer Joe Mills, the man behind the Joe & Co barbershop in London, to find out which hairstyle will work best for each face shape (and the tweaks you need for different hair types). Read on for his advice - and look forward to never having another bad hair day again...
Best haircuts for a SQUARE face shape
Ciara Quilty-Harper
"A clean, close cut looks right for this face shape, so classic short back and sides with some texture on the top always works well - and highlights that strong jawline. You don't have it cut to soft around the edges. Keep things military-level precise."
The best cuts for each hair type:
Straight hair: go for a short back and side with some length on top, ideally a couple of inches as your hair is likely to stick up. Keep it shorter so you can control it.
Wavy hair: go for clean lines around the hairline, but leave enough on top for some movement and styling (a few inches).
Tight, curly hair: go for a tight fade on the back and sides. You can even crop the top down too.
Best haircuts for a ROUND face shape
"The key here is to elongate the face shape and not add width. With that in mind, a short back and sides with a quiff works very well. And avoid fringes at all costs - these will make your face appear smaller and accentuate its shape."
Straight hair: short back and sides with around 3 to 5 inches of length through to front to create the height needed. Ask your barber for a quiff and get some height with your hairdryer.
Wavy hair: use the natural wave to give you height and keep the length around 5 to 6 inches long . Use a sea salt spray get extra volume and texture in the front.
Tight, curly hair: ask your barber for a clean fade and a high top - the longer the better.
Best haircuts for an OVAL face shape
"As this face type is evenly balanced, pretty much any hair style will work on an oval shape. While this might make you feel like you can't put a foot wrong, keep in mind that it's really best to avoid a fringe (as it will cover up your forehead and could make your face appear rounder). Ideally, ask your barber to work with your hair's natural growth pattern to lift it off your face."
Straight hair: you can either leave some length on top and sweep it back or go for a shorter crop. It's crucial here to pay attention to the direction your hair grows naturally as it will be easier to manage.
Wavy hair: best to grow it out and work with your natural texture without trimming the sides down too severely.
Tight, curly hair: go for a skin fade with sharp details around the hairline and a shorter crop on top.
Best haircuts for a TRIANGULAR face shape
"Wide jawlines and narrow foreheads mean that you need to get a little more volume on the top and sides - but not too soft on the face as this accentuates the jaw line."
Straight hair: ideally 3 inches all over and a lots of texture from the barber. Too short and it won't sit right.
Wavy hair: let the waves grow out and keep some softness around the back and sides. Ask your barber to texturise throughout the hair.
Tight, curly hair: clean sides with a little length on top. You could even grow it all out into a full-on Afro.
Best haircuts for an OBLONG face shape
"You can also wear most hair cuts with this face shape, but don't go too short at the sides as it will elongate an already elongated shape. Think more classic shapes and scissor cuts - nothing too extreme or short as your goal is to add width."
Straight hair: Let it grow out to about an inch on the top and sides and ask the barber to add some texture to it.
Wavy hair: work with the waves. Grow out to a similar length all over, say 4 to 5 inches, and let the hair fall how it wants to. Don't add texture as it will become harder to control.
Tight, curly hair: A short Afro style will work best - length-wise, at least 3cm or a little longer.
Best haircuts for a DIAMOND face shape
"Go for more volume on the top to create a more balanced look. Diamond faces tend to have strong cheekbones and narrow for heads so something a little longer will always look good - in short, a fringe of some form is often the way forward. Ask for scissor cuts where possible to keep things soft against your angular cheekbones."
Straight hair: go for more length on top, say 5 to 6 inches, and ask your barber to add some texture so you get added volume up there. Any shorter and it wont sit right.
Share this article
Related Posts